Our Pre-School class is called 'Daffodils'. In Daffodils, we are very caring supportive of each other and this in turn helps to create the right atmosphere for learning. We believe in listening to and observing children carefully, so we can make the provision well matched to needs and develop independence in small steps. Daffodils is the kind of class where smiling is encouraged. We strive to develop the children's knowledge during adult directed activities and by following their own interests within the class continuous provision.
Meet the Team
Miss Pitcher - Class Teacher
Hello! My name is Miss Pitcher and I am the Nursery teacher at Streethay Primary School. I love all things Early Years, especially learning and exploring in the outdoor environment. My favourite book is The Colour Monster by Anna Llenas. I love how this story uses different colours to explore and support children's understanding of different emotions and feelings. I also love Julia Donaldson stories such as the Gruffalo, The Snail and the Whale and Stickman! My favourite colour is yellow because it reminds me of all things happy like the sunshine and sunflowers. I enjoy running and growing colourful flowers in my garden. I cannot wait to learn all about you and your favourite things in September! See you soon!
Miss Griffiths - Teaching Assistant
Hi, my name is Miss Griffiths. I'm really looking forward to being in Daffodils with you all. I enjoy colouring and painting, as I find them relaxing. My favourite animals are cats - I have a fluffy ragdoll named Hobbie. My favourite colour is blue because it reminds me of the sea. We have lots of fun activities planned, and I can't wait to do them with you!
Mrs Dale - Teaching Assistant
Hello, my name is Mrs Dale. I am really excited to work with you all in Team Daffodils. I love reading stories and singing nursery rhymes. My favourite story is Elmer because I love how he celebrates being unique and special. My favourite nursery rhyme is Twinkle Twinkle Little Star, I love doing the action to this song too! I cannot wait to hear all about your favourite things!
Our Approach to Learning
Pre-School is an important year because it is where preparation for school really starts to take place. In Daffodils, we endeavour to build strong, nurturing and caring relationships with the children which encourages them to feel safe and secure within the learning environment. We do our utmost to make every child feel valued, happy and integrated into our learning team. In Daffodils, we strive to give every child the opportunities and experiences they need to reach their full potential and develop a love of learning.
We work together to get the children ready for Reception. The children receive daily adult led activities, they are encouraged to explore the indoor and outdoor environments and play in the continuous provision. We use 'Tapestry', our online journal, to share learning developments and next steps on a regular basis. This allows us to plan and set weekly activities around the children's interests and requirements.
The Framework we follow in Daffodils is the Early Years Statutory Framework which includes the following areas:
Personal, Social and Emotional Development
Communication, Language and Literacy
Physical Development
Literacy
Mathematics
Understanding of the World
Expressive Arts and Design
When the children join us in September, we initially will focus on the prime areas (Personal, Social and Emotional Development, Communication, Language and Literacy and Physical Development) until the children are settled within their new school environment. After that, we ensure the children are given the opportunity to learn and develop in every area, aiming to reach the child's full potential and get them school ready.
In Early Years, a strong parent partnership allows us to develop a nurturing and robust relationship with the children as it allows us to know your child's individual needs and interests. Good parent partnerships can be established through conversations at drop off and pick up times and through interactions on 'Tapestry', where parents can share what activities their child have done at home. We warmly invite you to contribute to these regularly so we can gain a greater understanding of your child as they progress throughout the year.
At Streethay, we believe every child matters. In Daffodils we plan to create exciting holistic activities for the children. We follow the Reggio Emilia approach; this focuses on all children and their individual learning styles. Within Daffodils, we support the children by adapting the environment to meet all their needs and desires. We focus on building the cognitive, social, language, creative and physical skills that empower the children to create their own learning experiences. Children are full of curiosity and creativity and we encourage them to become inspired and pursue their own ideas.
We plan exciting educational learning visits or arrange someone to visit the school termly to help enhance the children's knowledge. We also extend our children's learning by providing opportunities within the classroom, for example, this year we purchased caterpillars and watched them grow into butterflies discussing the key features of the life cycle.
Here are a few photographs of our experiences from last year...
Our Year
Pre-School is a year full of exciting, stimulating experiences and a start to children's learning journey, but the most important part of pre-school is for the children to grow in confidence, to develop strong friendships and relationships. In Daffodils, we use observations and assessments to ensure that each child makes progress within the areas of learning. We support children and provide individual next steps as well as working closely with the parents. Through providing Learning Alongside sessions and parent evenings we share achievements and next steps to support the children. We use our Learning Journal 'Tapestry' daily to allow parents to see their children's progress. We develop strategies and interventions for children whom may need extra support. Additionally, we challenge and extend children's learning to deepen their knowledge and understanding.
In the first few weeks when the children attend pre-school, the timetable has a high percentage of child-initiated activities and short carpet sessions. We use the first few weeks to formally 'Baseline' where your child is developmentally working within and use this to plan next steps. The children will free flow between the indoor and outdoor environment accessing activities set out. As the year moves on, the children will have more teacher led inputs which are play based for a short period of time. The inputs will then be extended into the provision where the children can explore and investigate their knowledge further either independently or with an adult. The learning environment will be enhanced throughout the weeks to support the children's needs and through their ideas, suggestions or interests. Towards the end of the year, children will start to get ready for Reception and the teacher led inputs will be for a longer period. This will allow the children to become more independent with their learning.
Parent Contact
If you are a parent and you have any questions relating to your child's learning or you are concerned about anything at all please hang back and speak to Miss Pitcher at the door. If you prefer you can make an appointment to see Miss Pitcher through the school office. Alternatively you can email the school office on: info@streethay.set.org all messages will be passed to the Class Teacher.
Related Blog Posts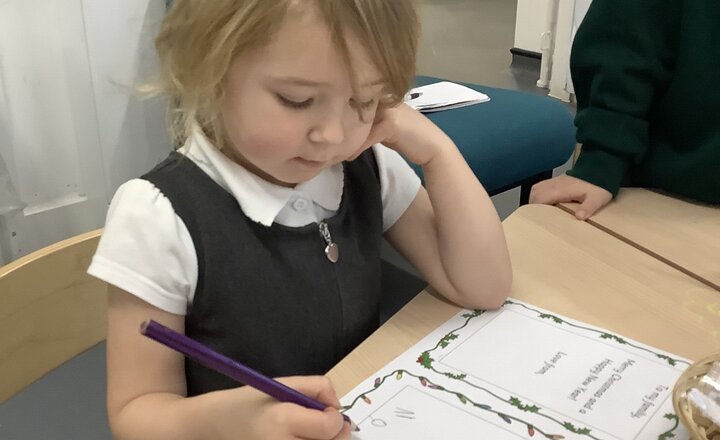 5 December 2023
This week, we are beginning to learn how to write our names. We are using our name cards to look at the shape of the letters in our names. Then, we are having a go at writing what we think our name looks like in our Christmas cards.
Continue reading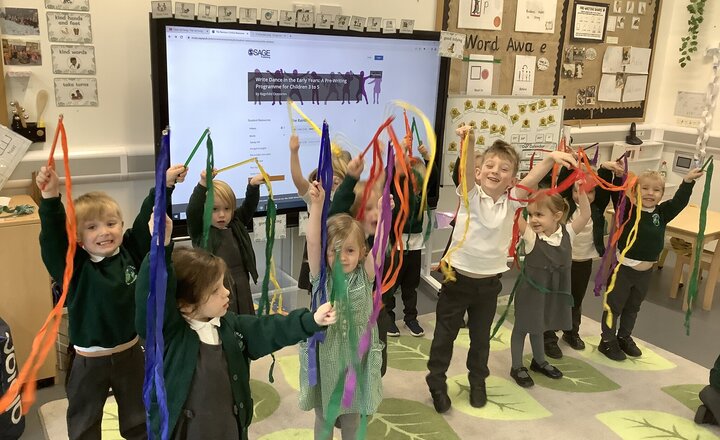 2 December 2023
This week, during Write Dance, the children have been using the ribbons to practise their gross motor skills (larger muscle movements). Firstly, we learnt to sing and dance along to the song 'The Rainbow'. Then, each group performed the song with ribbons to their friends and teachers. Here are…
Continue reading
24 November 2023
This week in Maths, Team Daffodils have been reciting numbers past 5. We have been counting up to 10 and beyond in lots of different ways. Each morning we have been counting how many children are at school today. In provision, we have been making tower houses and counting how many blocks tall. We…
Continue reading